Hargila Army of women saving the Greater Adjutant Stork in Assam, India
Dr. Purnima Barman and the "Hargila Army" of local women are working together to protect the Critically Endangered Greater Adjutant Stork in villages of Assam in northern India and to enhance the livelihoods of the local women.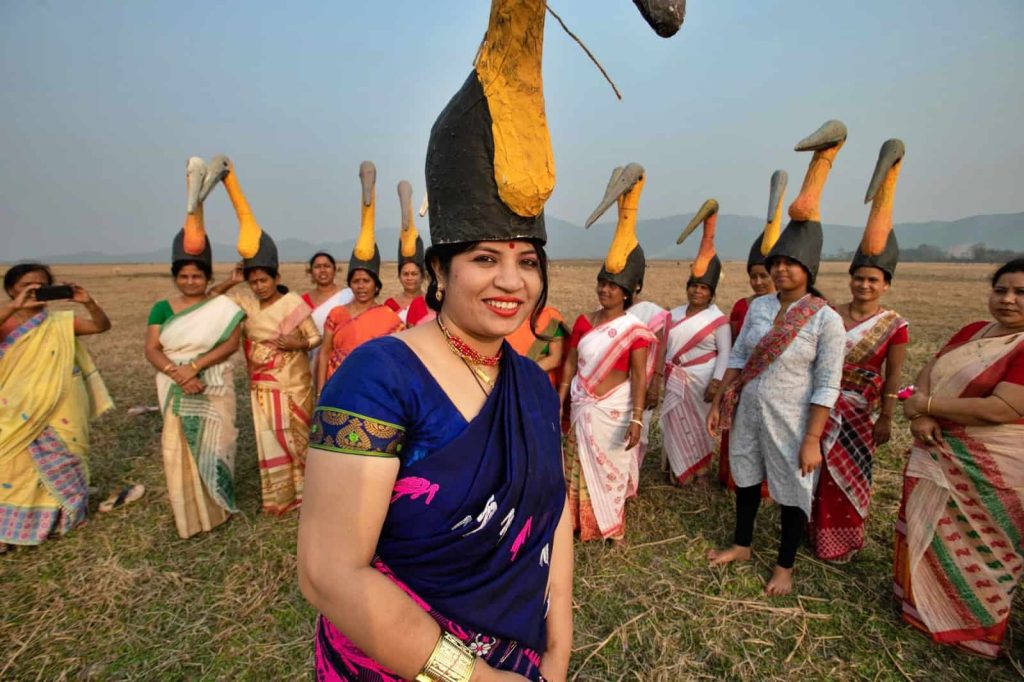 Dr. Purnima Devi Barman has been working in Assam for the last 15 years and made remarkable progress, integrating conservation with local culture, economic opportunities, empowerment, tradition and protection. Due to her remarkable works, the population of the Greater Adjutant stork has increased from about 400 to about 1,000 birds in Assam.
Purnima mobilised indigenous women and established the "Hargila Army", a community group of 10,000 members. By connecting communities to their land and culture, local people now lovingly embrace a bird once considered a bad omen and unhygienic.
Since the Hargila bird is depending on healthy forests, the programme is supporting habitat restoration and climate change mitigation.
The Greater Adjutant stork is an endangered bird according to IUCN red list and is found in India and Cambodia. This IUCN red lists endangered birds with a decreasing global population trend of about 1200 individuals. Assam, India, is the stronghold of this bird, with about 80% of its global population is residing here.
The scavenging bird is locally called Hargila (bone swallower), treated as a bad omen, ugly pest, and disease carrier. This bird was persecuted poisoned, and its breeding colonies were destroyed. Purnima's tireless and consistent works have reversed the situation of this bird of the people, and these needs to sustain.
Purnima and the Hargila Army are restoring the stork's population through protecting nesting trees, providing artificial nesting trees, rescuing chicks that fall from the nest, and rehabilitating injured birds. It really takes a village to protect these storks.
The project has established a weaving center where local women weave traditional cloth with the stork motif, and make other products to sell as handicrafts. Materials for weaving and sewing and training in handicrafts is provided at the center.
The project recently opened a Hargila Education and Conservation Centre in Guwahati, Assam to share information about this amazing bird. Hargila baby showers and other cultural and ritual awareness events have attracted people and transformed the birds into cultural icons.
A nest adoption and learning exchange program among nest tree owners will be established. Radio tagging of 20 birds to learn more about their dispersal and other ecological information is planned. A bird hospital will be established, as well an organic farming plot to train women. Trees will be planted on 500 hectares of degraded land in unprotected areas near storks' habitats.
Sustainable Development Goals
Wetland areas, Riverbanks, Riverine forests, Agroforestry