Whether you are a novice to rewilding or a seasoned rewilding practitioner, join us to find out!
Over the past few months we have been developing a Rewilding Community of Practice in collaboration with the Global Landscapes Forum (GLF), True Nature Foundation, Rewilding Academy, Alerce Environmental Communication and a number of other great people.
We will host our first interactive online event next Wednesday July 14th at 4 PM CEST (3PM BST).
Join us for stories about the Dodo island (Mauritius), Female Empowerment through conservation and environmental education in India and living in sync with nature.
Click on the link below
to get your free ticket!
https://www.eventbrite.co.uk/e/what-is-rewilding-tickets-162056855417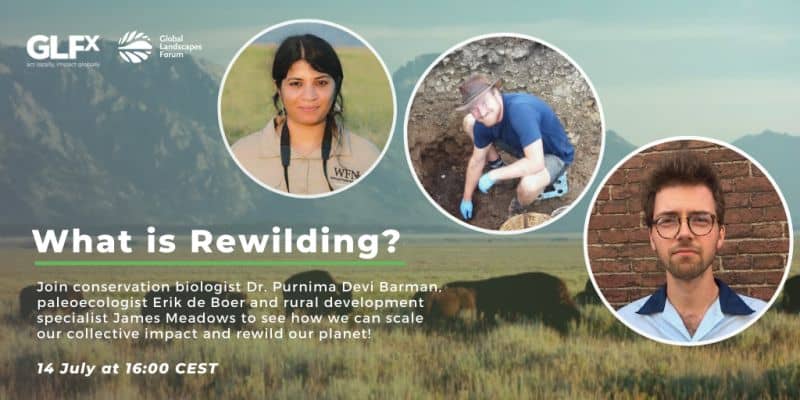 Event highlights
Dr. Purnima Devi Barman, globally known as "Stork Sister", will tell the incredible story of a female-led community conservation movement in Assam saving the endangered greater adjutant stork (Hargila) by changing local perceptions.

Paleoecologist Erik de Boer will discuss his research on Mauritius, once home to the illustrious dodo bird. He will share his experiences working with local stakeholders, unraveling natural histories as a basis for ecological restoration.

Rural development specialist James Meadows will talk about co-existing with nature and will present tools, cases and participatory approaches to develop integrated solutions so we can learn to live in nature rather than around it.
Join Purnima, Erik and James to see how we can scale our collective impact and rewild our planet!
Get your free tickets here
https://www.eventbrite.co.uk/e/what-is-rewilding-tickets-162056855417
In case you missed the event, visit our "Knowledge Hub" resource page that answers the question 'What is Rewilding?'.